20 Sep
First of all, we wanted to say thank you to all of you who participated in our first challenge. We are so amazed and excited that the number of participants reached almost 70!  Big hugs to everyone who played along in our first YCU challenge =) We hope to see you again for our next challenge too, which starts on September 23rd! But for now, it's time to announce the winner and top five from our first challenge.
Challenge #1 Winner

We sure did have a lot of fabulous entries for our first challenge. You are all so incredibly talented! But first place can only go to one participant, and that lucky and talented someone is…
Here's a look at her winning card
 Isn't it wonderful? She did a wonderful job with her coloring, and those two smiling lights on the twine bow are so cute!
Congratulations to you, Yainea! You have won a $25 gift certificate from our lovely sponsor, Simon Says Stamp!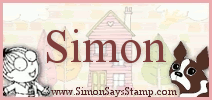 Have fun browsing through their huge selection and picking out what you want to spend your $25 gift certificate on! To claim your prize, please email Britta at britta.swiderski@gmail.com
Challenge #1 Top 5

We also wanted to name four other designers that really caught our eye from this challenge. These four designers will round out our top five for this challenge. Without further ado, here they are:
Thank you so much for stopping by our blog today. We hope to see you back in a couple of days, on September 23rd to be exact, for our next challenge =)
- Britta and Marie