23 Oct
Hello, and welcome to our third Young Crafters Unite challenge! We hope you will be able to join us in this challenge =) Before we get to the challenge, we wanted to let you all know that we're planning to do a blog hop with the same theme as this challenge. The blog hop will start on November 4th, and run throughout that weekend. Since the theme for the blog hop is the same as for the challenge, you will be allowed to enter your blog hop card into the challenge as well. Sign-ups will begin this Friday on Friday the 28th of October at 12:01 am and space will be limited, so make sure to pop over here then to sign up! Now, let's announce this months challenge!
This months challenge
This time, we want you to make a masculine card! There's so much you can do when making a masculine card. You can use maculine colors, masculine images, masculine patterned papers and whatever else you can think of =)
Awesome Design Team contributions
We are so lucky to have a great design team to give you lots of inspiration for this fun challenge. Here are their amazing creations for this challenge:
Chari Moss – http://littlemisslittleness.blogspot.com
Jen Rzasa – http://ourchangeofart.blogspot.com
Jess Larsen – http://jesslarsen.blogspot.com
Paulina Nakamura – http://prettypinkposh.blogspot.com
Britta Swiderski – http://brittaswiderski.com
Marie Forberg – http://legojenta.blogspot.com
Prize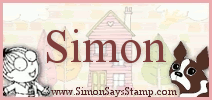 We are so lucky as to be sponsored by the awesome Simon Says Stamp for this challenge. They are giving one lucky winner a $25 gift certificate to their online store! If you haven't checked out their online store before, it's totally worth your time. They have a huge selection of stamping and scrapbooking supplies =) You can check them out here =) Thank you so much, Simon Says Stamp!
Challenge Rules
Please make sure you read and stick to these rules. We will not pick you as the winner or as part of our top five if you have not followed the rules. Please know that we are only doing this to keep it fair for everyone =)
- Your entry must be made after this challenge was posted. We want to see your new projects!
- Link back to our challenge in the blogpost for your entry
- Display the challenge graphic in your blogpost. (This does not apply for entries posted on Flickr)
- You can not enter more then three challenges with your card. In other words, this challenge may only be combined with two other challenges
- You may enter this challenge up to three times
- Follow our blog via email, Google Friend Connect or RSS feeds
- Add the link to the post of your entry, not to your entire blog, in the Inlinkz tool below
Guidelines
We also have some guidelines you can follow. These are not nescessary to be picked as a winner or in the top five, but we would love it if you would please:
- Disable word verification on your blog to make it easier for us to comment on your creation
- Help us spread word of our challenge; you help make us successful by telling your friends
Deadline
You have until November 15th, at 11:59 pm central USA time, to link up your entry in the Inlinkz tool below. We will announce the winner and top five of this challenge on November 20th. The next challenge will start on November 23rd.
Thank you so much for stopping by our blog today. We hope you will be able to join in on our challenge =) We encourage everyone to enter our challenges, no matter what your real age might be. We're celebrating our love of the craft and how we feel young at heart when creating!
- Britta and Marie